Unlock the full Potential of Google Workspace
Join us to discover AppSheet, Apps Script, and Make.com, and unleash the power of automation in your cloud-first workplace.
Details
Date: 28 September 2023
Time: 16:00 - 16:45 hrs
Location: Online
Host: Jonas Aerts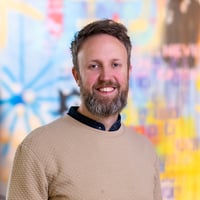 Workspace-as-a-Platform
Google Workspace isn't just a set of tools to get you working. It's a platform. And that platform can be the foundation for tons of additional functionality. During an interactive breakout, we will discuss 4 options.
AppSheet
Build apps from Google Sheets (or other sources) without coding!
Apps Script
Automate your processes by coding.
Make
From tasks and workflows to apps and systems, build and automate anything.
Custom Development
More complicated processes may need a tailor-made solution.
Key Takeaways
Google Workspace is a platform you can build on.
You can start building yourself in Google Workspace. Build apps from Google Sheets with low code/no code in AppSheet or automate your processes by coding in Apps Script.
You can start building with tools that work on top of Google Workspace. If you want to do this yourself, Make.com is a powerful tool. If you want Xebia to help you, we can build you what you need!