AGILE

NCR

2

0

2

3
December 1st–2nd, 2023 | Live Virtual
14 Years of Knowledge Sharing & Connecting Individuals
Created by a group of passionate agile enthusiasts, AgileNCR thrives on the foundation of Xebia's core value, Knowledge Sharing. Over the past 13 years, this has developed into a coveted platform for experts from across the globe to share wisdom about transformation, DevOps, coaching, business agility, leadership, and collaboration.

Our upcoming Live Virtual conference AgileNCR2023, is going to be a deep dive into myriad facets of Generative AI. We will explore its impact on business agility, scope, and challenges. There will be sessions around changing landscape of leadership, DevOps & platform engineering, and more. Our goal is to empower you and your team to leverage the latest technology and attain excellence.

Don't miss the opportunity to network with global Agile leaders and engage in high-energy workshops.

Reserve your spot now!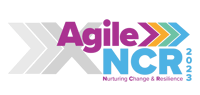 Register now
AgileNCR is one of India's premier conferences in the space of business and technical agility, technology, design, development, business culture and leadership. Make sure to register and witness the 14th consecutive edition of this conference.