Productive Hybrid & Remote Work in Minutes, Not Weeks
For whom?
You are a CIO or IT Director (or in a similar position) and your organization is considering or already using ChromeOS devices. However, you still need to provide your people with seamless access to all of the data and apps (including Windows apps) they need to be productive. Security is key and besides, you do not want to spend days or weeks to be up and running.
If you recognize yourself in the above, then be sure to join our upcoming webinar to learn how to access legacy apps, efficiently and securely!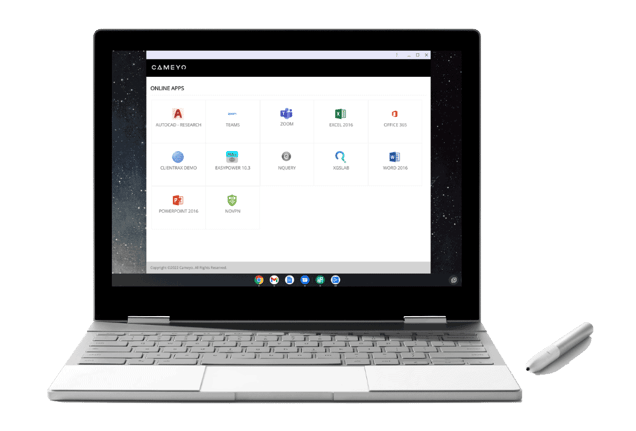 Why this session?
Many organizations rely on Windows applications to run their business and, at the same time, they have a challenge in reducing hardware costs and cybersecurity risks. Through our partnership with Cameyo, we enable you to provide your people with secure access to the business-critical apps they need to stay productive and work from anywhere (WFx) on any device.
In this roundtable conversation, you will hear from the CIO of a large European retailer, who will walk through the various technologies he evaluated for enabling access to business-critical apps on ChromeOS devices. Experts from Google, Acer, and Cameyo will share more about the benefits of ChromeOS and Virtual App Delivery (VAD).
Details
Date: 23 September
Location: Online event
Time: 09:00 till 9:30 CET
Language: English
What is Cameyo?
Cameyo is a simpler, more secure alternative to application virtualization and remote desktop software that enables you to cost-effectively deliver all of your business-critical applications to all of your employees, from the browser. Regardless of whether your workforce is remote, in-office, or a hybrid, Cameyo helps make your employees more productive from any device with our secure application delivery platform.
Cameyo's Virtual App Delivery (VAD) platform provides secure cloud desktops so your people can be productive from anywhere and any device, while protecting your network & data.
Together with ChromeOS, Cameyo provides users with seamless access to everything they need to be productive while enabling IT teams to manage secure cloud desktops directly from the Google Admin console without the cost, complexity, and security issues of Windows desktops.
What can you expect during the session?
This 30-minute session will cover:
A conversation with Emir Saffar, CIO of Ur & Penn, with

actionable insights

into how his organization tested, evaluated, and selected the right virtualization solution for

enabling the migration to ChromeOS devices

company-wide.
An overview of how ChromeOS and Cameyo work together to deliver

ultra-secure cloud desktops

that enable your users to access all of their apps - even Windows apps - on ChromeOS devices just as if they were installed locally.
A live demo of Cameyo's platform, showing you how you can

quickly force install and pin apps

to your users' ChromeOS devices via Google Admin Console in just minutes.
We respect your time, so we will keep this session to 30 minutes, and if anyone would like to stay longer for additional Q&A, the speakers will gladly stay to discuss.
Should this date and time not work for you, no problem! Just register and we will send you the recording right after the event. Or you can contact us directly to set up a personal demo.
Speakers
Emir Saffar - CIO at UR & Penn
Andrew Miller - CEO & Co-founder at Cameyo
Alex Lancee - ChromeOS Sales Lead at Google
Jeroen Hovinga - Sales Director Chrome at g-company | Part of Xebia