Date: Tuesday January 25, 2022
Time: 9 - 11 with breakfast
Language: Dutch
Introduction
Future-proof leadership is a prerequisite for a successful transformation. But what exactly is future-proof leadership? And what does it mean for those leading or managing an Agile - or other type of - transformation?

This workshop is all about sharing our experiences with leaders from various industries. We'll focus on the leadership qualities needed to introduce a new way of working and ensure it's a success.

We'll discuss the ins and outs of future-proof leadership through topics such as buy-in, performance, portfolio management, continuous feedback, value-driven work, shared decision making, and the capacity to innovate. And, we'll answer the following questions:
Learning bites
What is future-proof leadership?
How do you lead autonomous teams?
How do you lead and let go of control at the same time?
How do you deal with dissatisfaction in the workplace?
How to become an attractive and inspiring employer?
For who?
A valuable morning full of inspiration, insights, and tools for (HR) leaders and change managers.
Speakers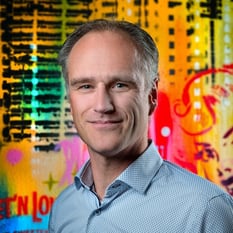 Rik de Groot is Principle Agile Consultant at Xebia, where he has advised and guided organizations since 2007. Rik mainly helps businesses transform to Agile, including organizational structure, attitude, and behavior changes. Rik wrote the book "Agile - Pocketguide for Agile organizations" and he is an examiner for the Agile Master certification.
Hygiene and safety protocol
For this event we will follow the COVID-19 guidelines as stated by the Dutch government. This means the event will be organized with a limited capacity and talks will be seated. Checks at the entrance:
All participants are required:
to be fully vaccinated, or
to have recovered from COVID-19, or
to show a proof of a negative test no older than 24 hours.
In the Netherlands you can register for a test on the day before the event with testenvoortoegang.org (also in English). Test results are usually available in two hours. You can use the Corona Check App to prove you are fully vaccinated, have recovered from COVID-19 or have a negative test result. You can also get a printed version at www.coronacheck.nl. Please make sure to bring your ID.